Restaurant design

Nightclub design
Retail store design

Corporate design
shopping center
Hospitality Furniture

Suggestions

Product Search
interior design ideas
interior design articles

Nightclub & Bar Magazine Article
Benefits of using interior designers
Design as it relates to your clientele and location
Layout and how it effects your bottom line
Creating a total interior environment
industry news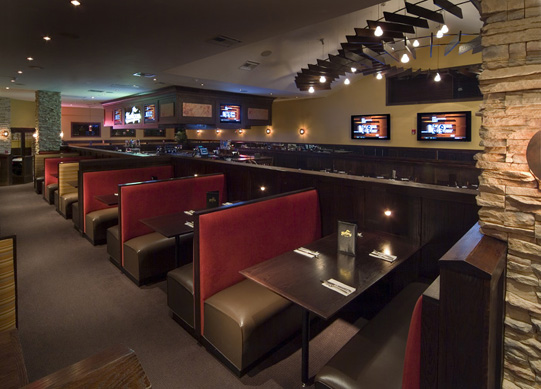 Mulligans Restaurant
In the wake of the Silverton Hub on Hooper Avenue, a new bar and restaurant has opened and been received with open arms by the people of Brick and Toms River, NJ. This new place is called Mulligans. Just opened in July, Mulligan's has become a happening spot for both the dinner and bar crowd.

Thirteen Plazma Flat Screens simultaneously showing: Football, Baseball, Golf, Basketball and constant ESPN make this also an excellent choice for sports gatherings.
The dinner crowd can experience the same casual dining experience that they could at the first Mulligans located in Farmingdale. From delicious pizza to black angus burgers to comfort food up to high end entree's like the cajun cornmeal encrusted tilapia.

The restaurant was designed by Maxey Hayse Design Studios and has a very New York City-Esque with its dark wood colors and classy aura which is exactly what the clinet wanted. Its a sight to be seen. We were able to get a grasp on the casual and upscale dining venue they were shooting for. The place is beautiful and the design and decor compliment their excellent food and service.
Article suppled by:
Night and Day Entertainment Magazine.
Ocean County September Edition
Allied Member, ASID
---
Maxey Hayse Design Studios, Inc.
104 E. Centre Street Suite 101
Nutley, NJ 07110
t. 973.667.3555
f. 973.667.3006